{category.name}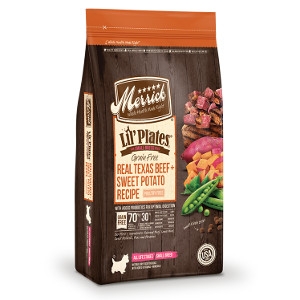 Manufacturer: Merrick Pet Care
Merrick Lil' Plates Grain Free Dry Dog Food caters to the big appetites of small pups. This nutritious recipe is specially formulated for the unique dietary needs of small breed dogs. The perfectly–sized, crunchy bites also help reduce plaque and keep your dog's teeth clean.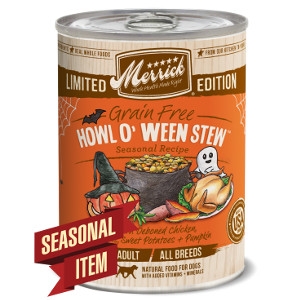 Manufacturer: Merrick Pet Care
This Halloween give your Best Dog Ever a stew worth howling for! This all-treat and no-trick stew features deboned chicken, peas, sweet potatoes plus pumpkin.
Manufacturer: Merrick Pet Care
Down south we like to make things comfortable. It doesn't get any better than homestyle chicken thighs smothered in gravy with a buffet of Momma Merrick's ?xins. If you hear your dog yelping a loud Amen on the back porch, this is completely normal behavior. No matter the color of your state the Merrick Family says God Bless the Red, White and Blue!