{category.name}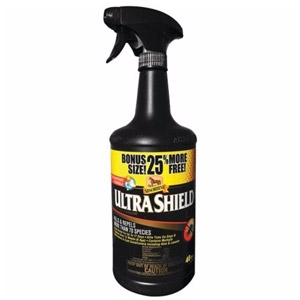 UltraShield® EX Insecticide & Repellent can also function as a premise spray—an important part of your overall fly control strategy. Premise sprays are commonly used to kill biting and nuisance flies, as well as crawling species such as deer ticks and carpenter ants on surfaces inside your barn. 32. oz.
Manufacturer: Farnam Animal Health Care
Feel Good About Your Fly Spray! Repels and kills horn, stable, house, horse and deer flies, mosquitoes, gnats, controls lice. Contains the botanical repellent PyGanic®. Also contains botanical and essential oils of citronella, clove stem, thyme and corn mint. Water based, alcohol free. 32. oz.